Arthritis is a chronic condition that affects people of all ages, although a majority of people with arthritis are 65 or older. This condition causes pain and may interfere with your ability to perform everyday tasks. While a doctor can provide medication to combat the symptoms, Dr. Marie at Equilibrium Spinal Care takes it one step further without the dangers of harmful side effects. If you live in or around Oakland and live with arthritis, contact our team today to schedule a consultation.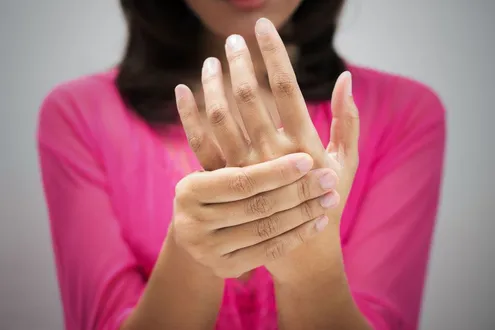 Arthritis Defined
Arthritis is a condition that affects your joints. It causes pain, can limit mobility, and often leads to stiffness, especially when walking. You may experience arthritis that occurs from wear and tear or develop another form that stems from your immune system or psoriasis.
What to Expect at a Chiropractic Visit for Arthritis
Our chiropractor will first take a complete medical history, which you will need to fill out upon arrival. Furthermore, we will ask questions about your condition. We will perform a comprehensive exam before creating a customized treatment plan designed to provide pain relief and support the healing process.
Treatment for Arthritis
The treatment plan that you will receive is customized to meet your needs. Many of the treatments used at our practice are used by the National Upper Cervical Chiropractic Association (NUCCA). A common factor in treating arthritis involves spinal alignment. During this treatment, Dr. Marie will manually move the vertebrae in your back, so they are properly aligned with the rest of your spine. Our chiropractor provides alignments in other joints of the body as well, which can reduce pain in those areas.
Our chiropractor may recommend hot and cold therapy to reduce your pain. With this treatment, we apply hot or cold to the area for a while. Cold therapy will alleviate your pain by constricting your blood vessels and reducing swelling. The warm works by increasing blood flow, so the region receives more blood and nutrients to the area. Warmth is well known to soothe muscles and other soft tissues.
Exercise therapy may also be included as part of your treatment plan. This therapy involves our chiropractor guiding you through exercises that will slowly move the joint. Exercise therapy can improve your range of motion or prevent further loss. Many of these exercises can be done at home between chiropractic visits to help with the recovery process.
Get Quality Arthritis Treatment in Oakland, CA
If you live in Oakland or the surrounding area and are dealing with arthritis pain, Dr. Marie at Equilibrium Spinal Care can help. Call our team today at (510) 330-5201or reach us through our website by using our online contact form.